TS-850
Nastavení pro optimální čistotu signálu
CAR = max
PROC = 7
MIC = max
PWR = max
RF = max
NB1 = on
NB2 = off
MONI = 1
PROC = on
MONI = on
VOX = on
Dávač = skoro max
Nastaveni pro buzeni LT2S+DB6NT
CAR = max
PROC = 7
MIC = 6
Nastavení podle OK3RM
K rozumnému nastavení slouží měřidlo na TS850ce, kde si zapneš na měřáku PROC a nastavíš si max. 10dB kompresi. Pak si zapneš ALC a nastavíš si hladinu MIC maximálně na konec rozsahu ALC, když hodně moduluješ.
Propojení s LT2S
Do IF OUT musí být přivedeno +12V pro zapnutí IF OUT a vypnutí PA.
V REMOTE konektoru musí být propojeny piny +12 VDC on transmit (7) se Speaker output (1). Na kusu OK1MZM je na Speaker output zapojené zapnutí IF OUT.

Přepínač LINEAR AMP na zadním panelu musí být zapnutý
Klíčování
Při klíčování mikrofonním konektorem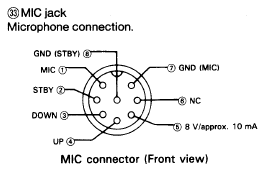 nelze mezi piny
STBY
(2) a
GND
(8) použít optočlen s Darlingtonem. Na něm je totiž velký úbytek cca 0.7 V a rádio zaklíčuje jen "napůl". Červená LED na předním panelu se rozsvítí, ale na Meteru se nepřepne zobrazení na SWR (dle nastavení) a modulace je silně zkreslená (velmi slabá, jen basy). Funguje klíčování obyčejným optočlenem typu 4N26.
ACC2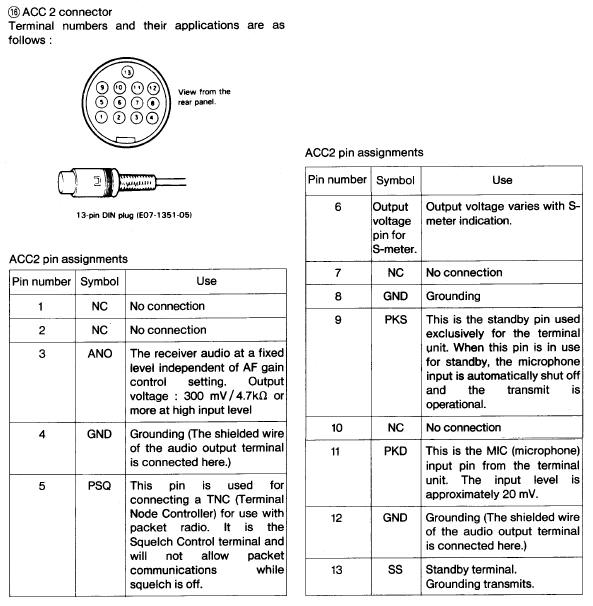 IF OUT

CAT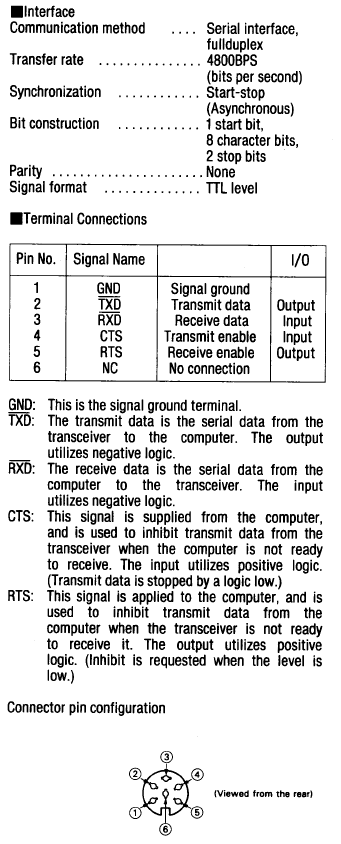 Blokový diagram
Pressing SCAN + TX-M.CH will set the radio into its extended function mode. These options can be scrolled via the M.CH/VFO CH. switch. The following are the extended functions:
00 - This is the ROM Ce`ecksum displayed as a 4-digit hexadecimal number. This cannot be changed.
01 - Allow filter selection in transmit. Initially set OFF.
02 - Antenna tuner power down. Initially set to OFF.
03 - Antenna tuner non-stop mode. When set to on, the antenna tuner will not stop when the lowest VSWR is found. Initially set to OFF.
04 - Store mode, and filter settings prior to changing bands, or channels. Initially set to ON.
05 - Display -HELLO- on digitial display, and send it in Morse code on power up. Initially set OFF.
06 - Turn full LCD display ON on power on. Initially set OFF.
Naměřené hodnoty
Kus OK1MZM
| | | | |
| --- | --- | --- | --- |
| CAR | PWR | výkon [W] | odstup šumu [dBc/Hz] |
| 6 | 0 | 3.3 | -114.17 |
| 7 | 0 | 10 | -119.33 |
| 10 | 1 | 25 | -131.2 |
| max | max | 87 | -132.4 |