Grig for Windows
Tryed to download Windows binary of Grig for some testing but without success. So had compile it myself using linux version of MinGW.
Downloaded the all-in-one bundle and used formely compiled hamlib.

Grig sources are not modified with one exception - note in About dialog: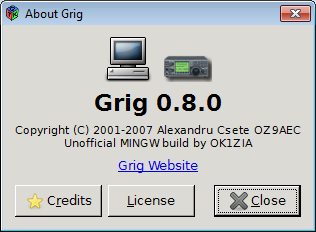 You can download it from http://ok1zia.nagano.cz/grig/ . Unzip it to directory and run grig.exe with proper command line arguments. See original documentation for more.
73! Lada