CI-V interface
Tested with: IC-706MKIIG, IC-7400
Schematics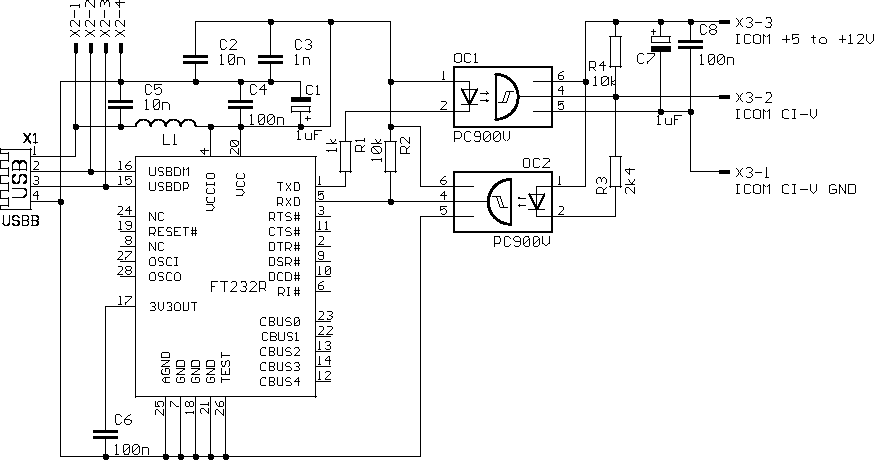 I've used my favourite USB to serial converter FT232RL in recommended wiring. After many experiments I've found it is not possible to make interface without supply from radio. Radio provides voltage through high impedance. It can work statically but reaching real communication speeds is impossible, rise edges are too slow. Supply can be about +5 to +12V . For my purpose best fits +8V from microphone connector (pin 1) next to the CI-V jack (on IC706 family).
Solder only one of connectors X1, X2. X1 is standard USB-B female, X2 can be used if you want to use other cable than A-B.
Note
If communication errors occur during tune, you have to disable CI-V transceive mode. For IC706:
Turn the radio off
Press LOCK
Turn the radio on
Rotate M-CH knob to menu item 36 CI-V TRN
Rotate main tunning knob counterclockwise to set oFF
Turn radio off and on
PCB
Photos
On the pictures is version for IC-706MKIIG - supply is connected to microphone RJ-45, pin 1.
Used box can be obtained here: http://www.krabicky.cz/plastova-krabicka-km-24.html
Reachable speed
I'have tested maximum baudrate of converter. The output delay of PC900V optocoupler is not symmetrical. In the practice at 115200Bd the output signal is good. At 230400Bd one can observe asymmetricity but it should work (tested with converter used as loopback). 460kB does not work.
Unrealised idea for higher speed: try to connect two PC900V's to cascade. Different edge delays should compense. Polarity will be inverted so you have to invert TXD and RXD pin on FT232RL.
Practical speed of CI-V bus is much slower than rates noted above, don't worry :-)